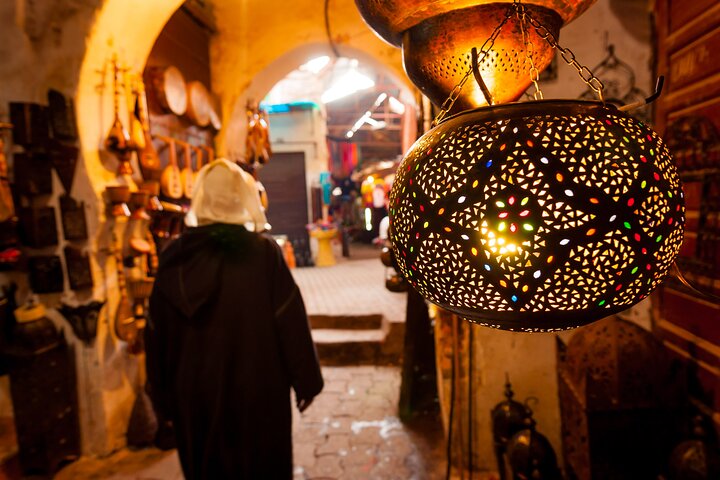 Get into the medina of Marrakech on this private shopping tour, where you can explore the markets, see local artisans at work, hear their stories, and shop as much as you like. Learn to haggle in Arabic with your guide, and then relax with some mint tea.
Shopping day trips from Marrakech
Meet your guide in Jamaa-el-Fna, and then hit the streets of Marrakech with your guide.
What is included :
Professional tour guide
Bottled water
What to expect:
Itinerary : Our typical itinerary for this day trips from Marrakech begins with a meeting point a Jemaa El Fna Square, most famous place in the Moroccan city of the Red City. Discover Marrakech extraordinary artists and artisans on a private, 03-hours medina shopping tour in Marrakech.
Navigate winding alleys where potters, painters and leather workers shape the city's most distinctive handicrafts; shop for carpets, clothing and beautifully-worked jewelry. Plan the perfect route with your personal guide, learn the art of haggling in Arabic and get exclusive discounts at some of the city's most intriguing shops, then toast your success over a glass of Moroccan mint tea.
We will be passing by Rahba Kedima Square of Moroccan city Marrakech and the souk markets of the medina, including in Derb Fhal Zefriti. Exact meeting point is suggested to be Hôtel Restaurant Café de France of the Jemaa El Fna square, and the ultimate return will be to original departure point.
As for accessibility, this day trips from Marrakech is near public transportation, with stroller and infant seats available accessibility. Wheelchairs are also supported and accessible as for transportation and surfaces. Service animals are allowed.
Indeed most travelers can participate and as this is a private tour, only your group will participate. Confirmation will be received at time of booking. If you have any other questions regarding accessibility, we would be be happy to help.
Which attractions will I visit with Marrakech: Exclusive Private Shopping Adventure in The souks? During this experience, places your visit will include Jemaa el-Fnaa, Medina of Marrakesh and Rahba Kedima Square.
How much is Marrakech: Exclusive Private Shopping Adventure in The souks? This day trips from Marrakech will take you to experience an exclusive private shopping adventure in the souks, starting from $29 only.
What is the Marrakech: Exclusive Private Shopping Adventure in The souks cancellation policy?
As for our cancellation policy, you are eligible to a full refund if you cancel at least 24 hours in advance of the start date of the experience. Just call the number on our website and reference this day trips from Marrakech tour. You can call us on +212 6 59 91 14 14.
Which company provides Marrakech: Exclusive Private Shopping Adventure in The souks?
Marrakech: Exclusive Private Shopping Adventure in The souks is hosted by Marrakech Guided Experience. If you have questions about this tour or need help making your booking, we would be happy to help.
Enjoy the best of Marrakech's medina on a private half-day trips from Marrakech, for a shopping tour with a private guide from us. Learn your way through boutique-filled lanes and discover great stores for leather, lamps, rugs, pottery, argan oil, and more.
Shopping in Marrakech is an absolute dream, even for those who are not die-hard shopaholics. This recreational activity is one of the city's best features and is popular with tourists from entirely all over the world.
For your shopping day trips from Marrakech, there is plenty to choose from here, as the boutiques are distinguished by a large number of products, from chic candles to modern pottery, luxury linen and even antique furs. However, some stores may be closed on Friday.
Book This Tour :